With high school graduation and summertime fast approaching, it's time for colleges, universities and learning institutions of all kinds to start thinking about ordering promotional stress balls. Whether you are running an educational summer camp or preparing for new student orientation, customized stress balls are a perfect and budget friendly pick for student swag bags. Not only do we offer the classic round stress ball in twenty bright and eye-catching colors to match your school colors; we suggest browsing our selection of stress reliever ball shapes for creative ideas.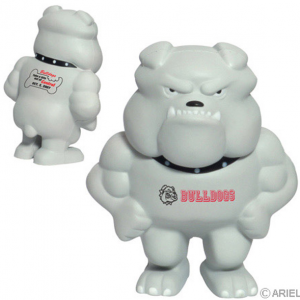 Promotional stress balls are available in a variety of popular school mascots such as the bulldog, tiger, bear, dog paw, eagle, knight, lion, panther, cougar and wolf. They are extremely popular with both high schools and colleges. Students can squeeze their customized stress balls with joy when your team beats its rival on the football field this fall. Or they can squeeze their mascot stress ball to release the stress of burning the midnight oil in the library stacks.
Speaking of football season…we now offer a football stress ball in three sizes! Our small, medium and large size football stress reliever is available in fourteen trendy colors. Promotional stress balls in the shape of a football are a top seller not only for schools, but businesses and organizations who support or sponsor their local teams or NFL teams. Football may be the most popular fall sport, but plenty of fans will attend exciting soccer and volleyball matches this year too. Customized stress balls in the shape of a soccer ball and volleyball can be printed with a school logo or team name and year for a fun hand-out to fans as they enter the stadium or court. Sponsors can print their logo and contact information on one side, and the school logo or team spirit message on the other side. A football key chain, soccer ball key chain or volleyball key chain is another option for an affordable swag giveaway at sporting events.