Custom stress balls are great tools for getting your company's brand into the cubicles, offices, cars, and homes of your potential customers. Some businesses and organizations, however, may have a hard time figuring out just what type of custom stress balls are a good fit for them. It may be easy to come up with one or two designs that reflect your services, but where can you go from there? One way to branch out and continue attracting the attention of people is to keep an eye on the calendar of monthly observances. You're probably already familiar with women's history month and no-shave November, but every month has several observances, some more serious or silly than others. Each month, these observances create an opportunity for you to offer custom stress balls that are timely and fun—even if they don't directly reflect the services you offer.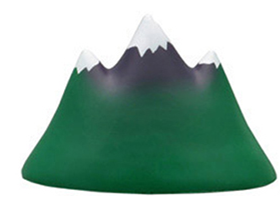 In this blog post, we thought we would tell you about three monthly observances this summer that you can use in your advertising campaigns. Place your orders today and plan to use custom stress balls to make it a stress-free summer for your marketing department!
June: National Great Outdoors Month
With school out of session, June is the perfect month for families to get away from the deadlines, fluorescent lights, and fast food of civilization and spend some time outdoors. For National Great Outdoors Month, any organization can celebrate nature by adding these custom stress balls to its campaign:
Beavers, owls, skunks, bees, blue jays, bullfrogs, and many other of the woodland animals we see when we venture into the forest
Sun, tree, mountain, and cloud stress balls that can sit on a client's desk and remind him that there is natural beauty waiting just outside the walls of the office!
Our ever-popular sports balls, which families will actually use as they play outdoors
Flip-flops, hot air balloons, seashells, surfboards, and many other recreation-themed stress balls that show your organization's fun and adventurous side
The great outdoors is something we can all celebrate. And if you can tie that theme into one of the products that your company offers, it could be your best marketing idea in a long time!
July: National Cell Phone Courtesy Month
This is certainly a lesser-known monthly observance, but we hope it becomes more popular! Cell phone manners are a problem in practically every industry, and your custom stress ball campaign in July can actually help solve the problem while promoting your brand at the same time.
Stress balls that double as cell phone holders are perfect for helping your customers finally stop losing track of their phones. Asking someone else in the office to call your phone so that you can track it down: a violation of cell phone courtesy! With our hand phone holder or smiley guy holder, that forgetful office mate will always have a place to park his phone when he finishes his conversation. Now, if you can just get him to change his ring tone from a full-volume rendition of the latest annoying pop song, your mission will be complete!
August: National Golf Month
For many people, there's nothing more refreshing or motivating than a reminder that there are miles of beautiful green fairways waiting for them at the end of the week. For National Golf Month, you may want to order extra golf-themed custom stress balls; they are sure to be popular!
We offer golf ball stress balls in a wide variety of colors, along with the opportunity to print your company's logo and name on them. A key chain stress ball is another option, keeping your brand visible each time that golf enthusiast picks up his keys. Or, offer one of our adorable golf cart stress balls, which are sure to find a great parking spot on the desk.
Your conference booth visitors and your customers will love learning about the summer's monthly observances and celebrating their favorite activities related to them. Attract attention in a new way every month, and keep an eye on the calendar to plan your next campaign! Be sure to look through our huge catalog of custom stress balls and find the designs that best fit your company or organization.
Site SEO by Myrtle Beach SEO Agency.