Personalized stress balls are great promotional items for marketing departments in nearly any industry. Their low cost, variety, and customizable features make it easy for a company to quickly get a stock of stress balls that they can give away to the public and to customers, getting the company's name and logo into their hands for future reference. But what happens after that point? A marketing manager obviously doesn't want to make an investment in a promo item that is only going to make it a few days before being tossed into the trash or forgotten in a bottom desk drawer.
There are three big factors that can influence a person to not only keep personalized stress balls that they receive at a trade show, conference, or other public event, but to actually place them in a prominent spot where they will see them often. When that happens, the company that provided that item has gained exactly what it wanted from its investment! Obviously, those three factors are important for the success of your stress ball promotional campaign, so what are they?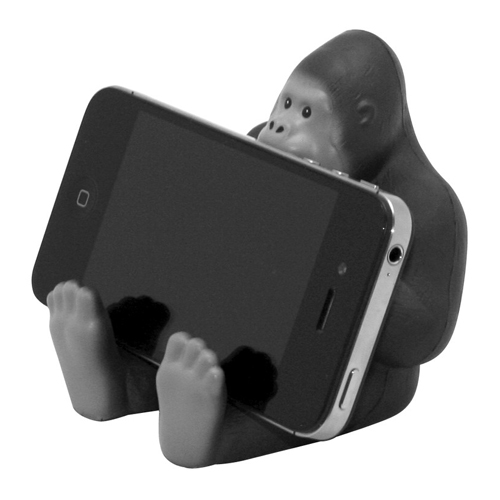 Humor
One approach you can take to make your personalized stress balls desk-worthy or car dashboard-worthy is to make them funny. If a person giggles, snickers, or just cracks a smile when the stress balls on your display table catch his eye, that's a good indication that he'll pick one up. He will also probably enjoy sharing that laugh with the people around him, so he'll be interested in putting it in a spot where others can enjoy it. Maybe it's something as simple as a laughing emoji stress ball, bringing your social media addiction into the "real world." Maybe it's our wobbler stress balls, which shiver and shake when you type furiously on your computer keyboard. Or maybe it's a talking cow stress ball, which gives your customer the great ability to insert a "moo" into any office situation.
Usability
Even an inexpensive, simple personalized stress ball can provide utility to someone, ensuring it a permanent spot on the desk. Perhaps the best example is a customized stress ball cell phone holder; it offers the great benefit of always knowing where your phone is, and that it's not getting buried under documents and the other things scattered across your desk. In the same way, our hashtag stress reliever is built to hang onto a set of earbuds, preventing its cord from getting knotted up or pulled off the desk.
If a promotional item actually helps a person organize their work area or avoid losing yet another set of earbuds, you can count on it remaining in a prominent spot for months or even years to come. Now that's a great return on your promotional marketing investment.
Relevance
Maybe it's not particularly funny, and maybe it doesn't really provide a useful function, but there's one more big reason that a person might latch onto a personalized stress ball and keep it around for the long term. That's the question of relevance—that is, it reflects something that the person is proud of and wants to identify with publicly. It's easy to come up with examples: favorite sports teams, your alma mater, pop culture references, favorite vacation spots like the beach or the mountains, and symbols that reflect your career are just a few. Personalized stress balls that advertise these interests do just what you want your marketing materials to do: catch the eyes initially, and then remain interesting enough to claim a long-term spot in front of those same eyes.
1001StressBalls: Your Source for Personalized Stress Balls
Where can you find personalized stress balls that reflect humor, utility, relevance, or even all three? You guessed it. 1001StressBalls.com offers a huge catalog filled with promotional items representing nearly any topic you can think of. All that's left for you to do is to pinpoint the ones that best reflect your company's field, customize them with your name and logo, and place your order. If you've focused on these three important features in choosing your stress balls, don't be surprised if you quickly run out of stock and have to reorder! And don't be surprised when you get calls from new customers who have remembered your name long after you interacted with them.
Site SEO by Myrtle Beach SEO Agency.