If you're going to place an order for bulk stress balls for brand promotions, obviously you are interested in getting the best possible return on your investment. That means designing stress balls that do several things at the same time: First, attracting the attention of a member of your advertising audience. Second, maintaining and/or regaining that attention each time that individual sees the stress ball sitting on their desk, car dashboard, or wherever they keep it. But the third goal of your stress balls is the critical one: they must clearly and attractively communicate the name of your organization and encourage the individual to get in touch with you directly. The cutest, most eye-catching stress ball will be useless if its owner has to ask "Now, who gave that to me?"
Customization is the key to making your bulk stress balls instant, constant reminders of your company's unique brand identity. Today, we'll describe the full range of customization options that are available to you as you assemble your company's next successful promotional campaign. With our help, you'll be able to pinpoint that perfect balance between our customization choices and your marketing budget.
Basic Bulk Stress Balls
If you know at the outset that cost will be the primary factor in your stress ball design selection, you will want to focus your attention on our most basic customization options. First, you'll browse through our huge online catalog, which is filled with stress ball designs that reflect a dizzying range of industries, interests, sports, activities, and other topics. Once you have found a design that reflects your organization, the special event you're targeting, or both, you will have the option to upload the logo, artwork, and/or text that you would like us to add to it. The flexible, easy-to-use logo upload system and wide range of color options make this our most popular customization strategy. It's extremely easy to build your customized design, select the quantity you need, and submit your order, getting your bulk stress balls on their way to you with minimal time and hassle.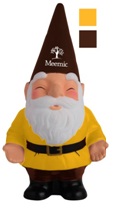 More Detail
A corporation with a bigger budget and more time to spend on customization may want to take it to the next level. A decal imprint, which is not a decal at all but rather a durable, permanent heat transfer image, provides more flexibility in logo size, positioning, and color range. Because decal imprints cannot be applied with the streamlined system that we use for normal imprints, these bulk stress balls typically require several additional weeks for shipment. However, the result is a stunning, brightly colored, attractive logo that represents your company in a very effective way. Our customers that invest in decal imprints for their bulk stress balls are consistently delighted at the way people gravitate toward them at trade shows and other marketing events.
If your company or organization's identity is closely tied to color, you may want to consider having a batch of bulk stress balls colored to specifically match your brand. Most of our stress ball designs are available in several different standard colors, but with enough time we can also fully customize a design to fit in perfectly with your other marketing products and signage. Just select the stress ball design you want from our catalog, then follow the steps to tell us what colors you need the final product in. The best method is for you to tell us the PMS numbers of your brand's colors, but if you don't have that information, not to worry. Our detailed proofing process includes computerized renderings for you to review, as well as digital photos of the sample design once we have printed it with your colors. By the time your shipment of bulk stress balls is on its way to you, you can be confident that it represents your company in an exceptional way that is true to your brand identity. As with decal imprints, custom colors require quite a bit of lead time to accommodate the design and approval of proofs and to execute special print runs.
Full Customization
For clients who are ready to "start from scratch" and design every aspect of their bulk stress balls from the ground up, we offer a complete customization option. It starts with your submission of photos, drawings, sketches, or other representations of the stress ball shape and colors that you have in mind. Based on those ideas, our partner factory (or factories, depending on the specific process we decide on with you) creates a wax sculpture for you to review, request revisions, and ultimately approve. The next step is a stress ball sample, specially made for your project with the colors that you requested. As with custom color stress balls, you receive digital photos of the final sample, but there's one more step as well: air shipping the sample itself to you so that you can get a firsthand look at it before approving it for final production.
There's no doubt that the full customization option provides an absolutely unique and striking promotional stress ball that represents your company or group with perfect accuracy. The trade-off, however, is a process that can be quite expensive and takes a minimum of four to five months. It's a great option for companies that are looking to launch a long-term, heavily invested marketing campaign in the future that requires fully customized giveaway items, but most of our customers find that our existing designs, colors, and basic customization options are sufficient for their needs.
Bulk Stress Balls for Every Project
Whichever design process you choose, you can count on quick responses and great advice from us as we help you work through it. We've been customizing and printing bulk stress balls for customers of all sizes and types for many years, and our agents are ready to guide you through our efficient, secure online ordering system. Feel free to contact us with any questions you have about the designs in our catalog or full customization of your next stress ball order.
Site SEO by Myrtle Beach SEO Agency.