You might not have thought about custom stress balls as relating to health. Of course, there's the fact that squeezing a stress ball can help calm you down during a stressful day at the office, benefiting your mental health and perhaps even lowering your heart rate a bit! But that's not what we want to focus on in this blogpost. Instead, we want to tell you about a few of the ways that promotional stress balls can encourage healthy behaviors and promote organizations that serve the public in the area of health care. While hospitals and doctor's offices are the most obvious organizations that might engage in this activity, there's also great opportunity for high schools and even businesses to use custom stress balls to get students and employees moving—especially as the spring temperatures warm up and we can get outside more often!
Custom Stress Balls for Healthcare Providers
Most businesses value custom stress balls primarily for their ability to keep their brand name, and therefore the products or services that they sell, near the front of potential customers' minds. If you work with patients at a hospital, doctor's office, or clinic, your promotion needs are probably slightly different. A chiropractor, dentist, or other private practice may order a batch of stress balls featuring their office's name and contact information, but doctors and hospitals also often use stress balls as reminders to their patients to maintain healthy habits—while, of course, reminding them about the facility where they recently received excellent health care at the same time.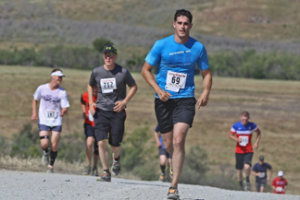 There are a few stress ball designs in particular that are favorites among our health care industry clients. There's "Doctor Bert," a lovable, portly, and squeezable stress ball figure that may or may not bear a resemblance to someone in your office! If you want to get even more whimsical, you can choose our dog, bear, or cow figure, all neatly dressed in a doctor's uniform. Fruit and veggie stress balls are great for reminding folks to follow healthy eating recommendations, and there's even a design shaped like a single vertebra that's perfect for offices that specialize in back and spine issues.
Schools and Businesses
It's becoming more and more common for high schools and even large businesses to encourage their personnel to develop healthy eating and exercise habits, particularly as we get into spring and summer. When your business sponsors a 5K run, holds a weight loss contest, or launches a healthy eating initiative, you can build excitement among your employees by making custom stress balls part of the fun. They're great reminders to keep pushing toward the goal, and they also remind employees that their employers care about their good health enough to take concrete steps to help them achieve it.
For high schools, there are many opportunities for booster groups, clubs, student organizations, and athletic divisions to encourage healthy habits among the student body. Often these types of groups have limited budgets and are looking for a very low-cost way to promote their causes effectively. Custom stress balls fit the bill perfectly, and school groups have no trouble finding designs in our large catalog that reflect their school colors. With an easy logo upload and ordering process, your school group can begin handing out fun, attention-getting stress balls to students in no time.
Many of the same factors come into play with college groups—fraternities, sororities, student life organizations, and clubs of every size and focus find stress ball designs that perfectly reflect their interests, including health and exercise-related ones. In addition, freshman orientation, fairs, and other student life events are great places for clinics and healthcare organizations in the local area to get acquainted with students and establish a valuable connection with them. Health-related custom stress balls are incredible assets at these types of events; college students love "free stuff," and a smile and a free stress ball can quickly lead to a great first impression at an orientation event.
Custom Stress Balls for Health and Fitness Events
Branching even farther out from the healthcare industry itself, companies and organizations that don't typically have anything to do with health and fitness can enjoy great promotional value by getting involved in their community through benefit runs, walks, blood drives, flu shot events, free health checkups at work, and other efforts. When they do so, these companies make the most of their investment by ordering a special batch of custom stress balls that combine two critical features: the health benefits of the event itself and the company's brand identity and contact details. Long after the cancer walk or blood drive is over, those who received your business's free stress balls will remember that you made a significant effort to give back to your community and promote good health. In an age when customers expect more from the companies they do business with, that counts for a lot!
So, what stress ball design should you choose for a community health event? There's a design in our catalog to match each one. For runs and walks, our running shoe, sunshine, and gold trophy stress balls are great choices. For flu shots and health checkups, a stress ball shaped like an adhesive bandage is a fun thank-you gift. And for blood drives, you can't do better than a stress ball shaped like a big, squeezable red blood cell! It's always a great idea to send participants in your company's health and fitness events away with a smile and a reminder of the good time they had with you.
Endless Ideas for Custom Stress Balls
As you browse through the rest of our online catalog of stress balls, you will find many more designs to help your company, high school or college organization, or healthcare provider promote great health in a fun way. We know that you'll love the results when you combine these designs with your unique logo—upload yours today and see how it turns out!
Site SEO by Myrtle Beach SEO Agency.