In April we started discussing how to maximize your imprint on customers with custom stress balls. That post was all about making a real connection with your potential and current customers, as well as keeping your own staff in mind when you're thinking about your promotional products.
This month is more about the event itself. Whether it's a college open house, a trade show, or conference where you're a visiting vendor, presentation counts! So let's dive into how to make a great impression with your presentation.
Blog posts in this series
The Table
This is the part most people think of when we mention presentation. What does the table or booth look like? While it's not our specialty, we do have a few tips to offer.
Less is more. Don't clutter your space with stuff. Have a simple but inviting table with your branding either on the tablecloth or a banner.
Have a place for leads to leave a card or write down their information.
And of course, have your branded custom stress balls displayed neatly around the space. You are allowed to have fun with that part.
Use Swag that Stands Out
The best part about custom stress balls is that they already stand out from the rest of the swag at most events. Attendees will have gotten their fill of pens, cheap sunglasses, cups, and branded pads of paper. Snooze! Offering something different and more engaging will set you apart from the rest of the vendors.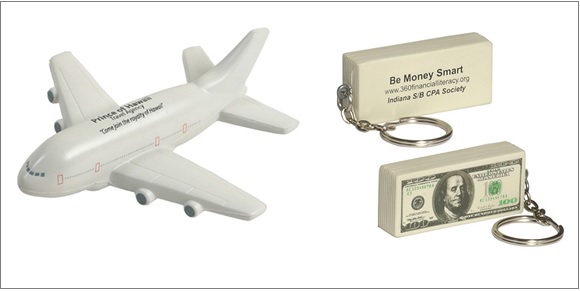 Engage the Senses
Speaking of engaging, engaging visitors to your booth on more than one level helps to engrain you and your business into their minds. That's part of the reason we love stress balls. It's something tactile and engaging on a sensory level that they can use for the rest of the event. If they're sitting in a conference session or informational meeting with financial aid, they have something to do with the hands! And squeezing a fun stress ball is a whole lot less distracting that clicking a retractable pen!
If you want to go a step further and aren't as worried about being distracting, consider one of our moving or noise-making options. These stress balls engage other senses on top of touch, causing most people to laugh or listen up to the message. It's memorable for sure!
Keep it Simple, Sweetie
We mentioned already how less is more when it comes to your table or booth at an event. The same can be true of your branding on your swag. We offer lots of stress balls that allow for customized messages, but sometimes your logo and a website or phone number is more than enough to get potential customers to reach out. Let the design, colors, shape, etc., do the hard work of making an impression, and keep your message simple.
Have a Call to Action
This is the other important element that can go along with your logo and contact info printed on your stress ball. There are two types of calls to action: passive and active. Passive is something like "Learn More," "Read More," "Contact Us," and other generic phrases. Not only are these basic, but they also don't work well for a promotional product. You want something more specific and action oriented.
If you include your phone number, consider something like "Call Today to Start Planning Your Future." If you can't or don't want to write all of that, "Call Today" is still more active than "Contact Us."
If you include your website address, consider similar wording techniques to our phone number tips. "Learn More About Us" is pretty passive, but "Learn How We Can Change Your Life" is more directional. Of course, you want to relate your CTA to your own business or services!
Consider adding a special offer! If your business offers discounts or specials, put those in the CTA: "Call Today for 20% Off," or "Get a Free Consultation!"
Whichever call you decide to include, make sure it's specific and tells your lead exactly what to do.
Make that First Impression Last
If you've ever attended an event, you've probably noticed that getting people to your booth can be the most difficult part of the sales process. Using custom stress balls is a great way to catch people's attention and bring them in for conversation. And letting that remain your focal point keeps them from being overwhelmed by information or visual stimuli, allowing you to create a lasting first impression.
Call today to maximize your imprint