There's absolutely nothing worse than placing a large order for promotional giveaway items, finally receiving the package, opening up the boxes…and discovering that what's inside is not at all what you had in mind. Quality is poor, your company name is printed illegibly, and it's just not a product that you are excited about handing out to potential customers.
Sure, you could go into a long process of attempting to get your money refunded by the supplier, but that's extremely difficult to do when the products you're discussing can't be used by anyone else since they have your company's name printed on them! And besides, who has time to add that kind of battle to their day-to-day work responsibilities?
Obviously, it's far better to get your logo stress ball order right the first time. Here are a few important ways that we at 1001StressBalls.com make sure that when you open up your shipment from us, the result is a smile and not a confused frown.
Get your promo items right with our help.
Great Quality
Everything starts with great quality. If the stress ball you choose is poorly constructed from inferior materials, you won't be proud to have your company's name on it. The poor quality of the product will reflect on your organization, implying to your potential customers that you don't value them very highly.
Even if you do decide to go ahead and use those poor-quality promo items, most of them will end up in the trash before long. No one wants to have a cheaply made, ugly, or slowly disintegrating stress ball sitting on their desk!
We take great care when deciding which manufacturers to work with in supplying our logo stress balls. For over 40 years, we've been printing and distributing stress balls to organizations of all types, and we've maintained a great reputation for quality throughout that time. You can count on us for promo items that represent your company the right way.
Control
It's a priority for us to give each customer as much control as possible over the final outcome of their logo stress balls. You know your organization, and when you are putting a marketing campaign together, you know the colors, themes, and designs that it should include. When you browse our stress ball designs, you'll discover a surprisingly wide range of color choices and combinations, allowing you to match your stress ball giveaway with the other elements of your campaign.
Another important part of the design process, of course, is transferring your logo to us in preparation for imprinting. Our online upload system is not only incredibly convenient for our customers, but it also leads to great printing outcomes. For non-rush orders, you'll always receive an art proof via email so that you can confirm that the design on your stress balls is just what you had in mind.
Partner with us for great-looking stress balls.
Dependability
While some of our customer orders are just "replenishing stock" for continuing marketing efforts, most orders are more time-sensitive than that. When you have a conference, community event, or other specific effort coming up, it's not acceptable to have your order of stress balls take a few extra weeks to arrive!
Our order turnaround times are specific and reliable. We let you know when you can expect to receive your order, and we make sure that you're not left hanging with nothing to hand out to your audience.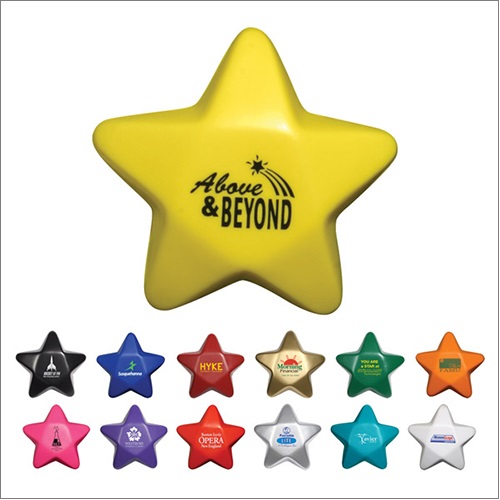 Because we know that our customers are often in a hurry, we also have a detailed, customer-centered, and convenient rush order system. You'll be surprised at all the benefits that we offer even on rush orders, and for many of our stress ball designs, there is no extra charge for the service.
Of course, it's always best when you don't need to rush your order, and as we near the end of 2019, there's even more reason for you to think ahead. Pricing always changes a bit at the beginning of a new year, so now is the time to place your orders for promotional items for your first-quarter 2020 campaigns and lock in this year's pricing!
Beyond Imprinting
While our website contains an enormous range of different stress ball designs and imprinting options, there are some organizations and campaigns that require something beyond what we normally do. That might be a precise color to match the organization's logo or even a unique stress ball design, custom-created for that customer.
The important thing to remember about these fully customized designs is that they require a lot of lead time. In theory, we can meet pretty much any request made by our customers for customized designs and colors, but it can take several months to go through the process. There is a lot of back-and-forth needed for design proposals, revisions, and approvals, not only between us and the customer, but also with our manufacturers, some of which are overseas.
We consider it a privilege to work with each one of our great customers, whether we are processing a rush order for a conference right around the corner or working to create a brand new, fully customized stress ball design.
Creative Options
If you've never used stress balls with logos in a marketing campaign, we'd like to direct you to a few key elements of our online catalog. Our full-color printing category includes some great stress ball designs that can receive full-color logos that look incredible. Take a look at the samples, and we think you'll agree that they really grab attention!
As you explore our website, you'll also find plenty of designs that do more than simply relieve stress! There are conversation starters, building blocks, emojis, cell phone holders, noisemakers, and all sorts of other creative designs that your potential customers will be excited to get their hands on.
Trust our expertise and our four decades of experience in the industry to get you the stress balls you need for your next campaign!
Don't take chances—work with us!