As your customer goes through their busy lives, it's easy for them to forget that they need to make an appointment or purchase from your business. Engaging marketing is the most important aspect of retaining your customers or patients.
Instead of giving your patient or customer an appointment reminder card or sales flier that they might accidentally lose or throw away, give them something that they are likely to hold onto. A promotional stress ball isn't so easy to forget and it's often right where your customer needs it the most – at their desk. This puts them in a prime location to engage with your business, whether via the phone or the internet.
Engaging Your Customer With Promotional Giveaway Items
Psychologically, nearly everyone likes free stuff. It doesn't matter if the item is something that your customer would normally buy. Getting something for free is a zero-risk reward. As a result, doing a promotional giveaway can feel a little like winning the lottery to your customer.
You can engage your customer by giving away a promotional stress ball. They will not only be triggered to remember your business when they look at it, but they will remember how getting that item made them feel. In turn, you will trigger positive memories associated with your business. This is a wonderful form of positive marketing.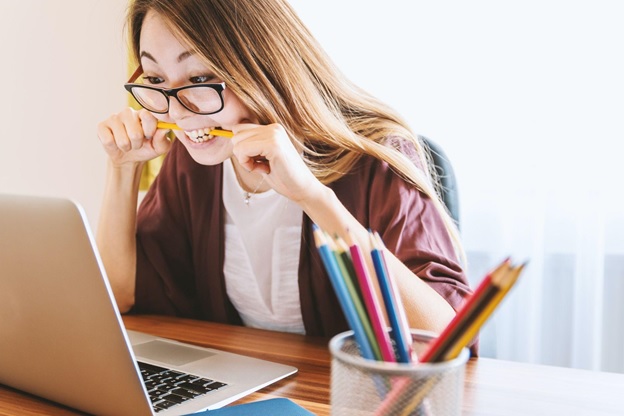 Your promotional stress ball could be on her desk!
How Shape Plays A Role In Customer Engagement
Choosing a promotional stress ball that has a fun shape will trigger your customer's memories when they see it. For example, if you are a dentist, choosing a tooth-shaped stress ball will trigger a reminder for your patient to call and schedule their next appointment. As a bonus, customers tend to keep their stress balls in areas where they encounter high stress, such as at their desks.
Imagine your customer sitting at their desk, getting ready to make phone calls. They are stressed out and reach for their promotional stress ball. The shape reminds them that they need to make a call to your business to schedule their next appointment or make their next purchase. You've subtly guided them back to your business by giving them an object that remains in their home or office.
How Customizing Your Stress Ball Plays A Role In Customer Engagement
In addition to choosing a specifically shaped stress ball, you can customize your stress ball further making it even more engaging to your customer. We offer custom color options and the ability to print decals on the stress ball tailoring it to your specific business.
You can select any one of our several stock option shapes and choose what colors you'd like it to come in. The colors could match the colors of your business logo or any combination of colors you would like. In addition, we can print your company logo or business name with a phone number on the stress ball making it even more impactful.
When your customer looks at your promotional stress ball, they will see two or even three reminders of where they got the stress ball from, reminding them of your business. The first is the shape, at a quick glance, it will trigger their memory. The colors will then jog their memory further. And lastly, your logo and business number will help them to fully place their memory and they will be reminded to call to schedule an appointment or make a purchase from your business.
Finally, your customer won't have to go through the process of trying to remember how to get in touch with you. They won't have to check their contacts list or hunt you down on the web. They will be able to call you directly just by looking at their stress ball, making engaging with you even easier than before.
Final Thoughts
Engaging a customer's memory is an important marketing strategy that will bring your customer back again and again. Promotional stress balls are an excellent way to engage your customer's memory, leaving them with positive feelings about your business and promoting engagement with them over and over.
Don't hesitate to contact us today to make a custom promotional stress ball order to further engage with your customers!